About Perrone Wellness Center
In 1999 Dr. Andrew Perrone established Perrone Wellness Center, a Hackensack, NJ-based chiropractic clinic. There, Dr. Perrone employs a combination of spinal manipulation and physical therapy techniques to treat painful conditions such as acute neck and back injuries, fibromyalgia, sciatica, and migraines.
Dr. Perrone has found that treatment is most successful when it is carefully tailored to the individual. While the core of his approach is based on spinal manipulation & physiotherapy, Dr. Perrone can bring together a variety of techniques & technologies that give a patient additional options & alternatives all with the goal of restoring health & well-being as soon as possible.
About Dr. Andrew Perrone
After graduating from the University of Bridgeport, Dr. Andrew Perrone entered the medical program at the Life University School of Chiropractic. He has since earned professional credentials from multiple physiotherapy institutions, such as the Southern California University of Health Sciences and New York Chiropractic College.
Outside of his work in physical therapy, he maintains a personal interest in wine tasting and golf and stays fit by riding his bike and exercising.
With two decades of health care experience, Andrew Perrone, DC, is the owner of a chiropractic care and physical therapy center in Hackensack, NJ.
Dr. Perrone and his team strive to provide care that alleviates pain and addresses the cause, rather than just the symptoms of an injury.
In the time since, Dr. Perrone has built his practice into a high-quality provider of chiropractic, pain management, personal injury and physical therapy services. Supported by his team, he works to assist patients in recovering from a range of pain-inducing ailments. Finding success throughout his career, he has been named a top chiropractor by 201 Magazine.
One area in which Dr. Perrone has extensive experience is non-surgical pathways for treating motor vehicle accident injuries, such as whiplash. He emphasizes that, even in cases where pain does not occur when the accident happens, it can eventually arise. For this reason, it is critical to visit the chiropractor as soon after an incident occurs as possible.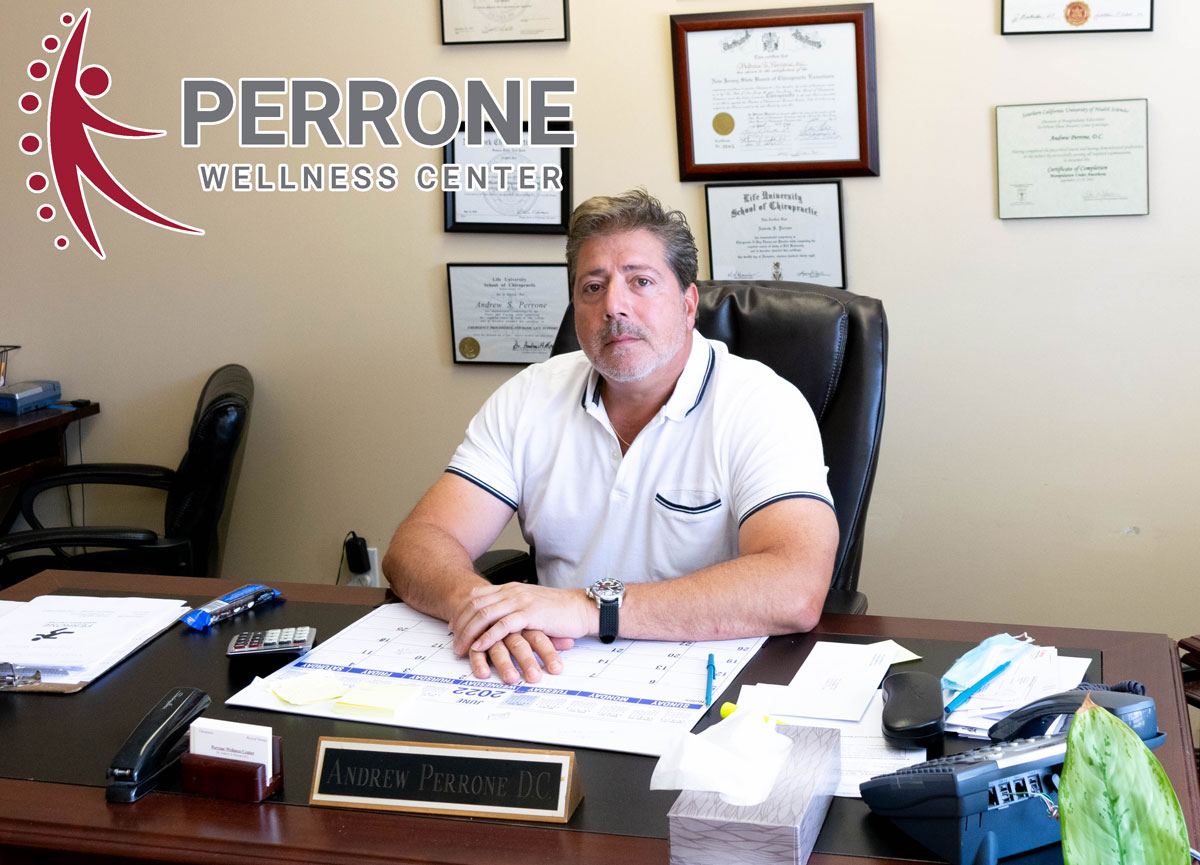 Dr. Andrew S. Perrone, DC
Chiropractor
licensed to practice in New Jersey
# 38MC00541200
Contact number: (201) 489-9555

We're here to help you move better and feel better. You can contact Dr. Andrew Perrone and our
team at (201) 489-9555 or complete our contact form below.
Yes, I am interested in setting up an Appointment!
Feel better, live better! Book an appointment today!
Copyright © 2022 - Perrone Wellness Center. All Right Reserved